Now offering to our equine sales and facility partners what we are calling exclusive rates to help streamline your sales and avoid long delays while your customers look for shipping quotes. When your facility signs an exclusivity contract with us your customers will save an average of 10-30% off standard rates and you will get an easy to understand rate chart from your facility to the continental US that you can display on your site and send to customers to quickly solve the "let me see how much shipping will be" situation. You get all these benefits for FREE if you meet our very basic requirements.
What does an exclusivity contract get your facility and customers?
10-30% discount on our normal rates
A multi horse discount: the more horses leaving in the same direction at the same time the bigger the discount.
PRIORITY booking with zero deposits required.
A useful rate map that you can display or hand to your customers that is updated any time our rates change.
What does signing an exclusivity contract require of you or your facility?
Our contract does not restrict you to ONLY using our transportation services so your customers and your facility can still chose to use other providers if needed.
The facility itself is required to offer any transports within the lower 48 your facility needs to have done to us first. This only includes transports to or from the facility itself. Transports that do not start or end at the facility are not required to be offered to us first but will be granted a flat 10% discount when offered to us and if booked the horses on that transport will count toward the # of horses transported by us on the facility discount percentage.

Basically we get first right of refusal  but if we cannot do your run because we cannot meet timelines or are not going in that direction you are free to find whoever else you wish to have do the run. This does not apply to runs the facility does ITSELF using its own equipment.

Share photos and social media posts on your Facebook page or website at least once every quarter and mention us on any transportation section of your website as your preferred transporter.
If customers ask about shipping within the lower 48 the facility should recommend us before any other hauler and provide contact information to us.
Thats it! All you have to do to unlock discounted rates for your customers is give us the first chance to service any transports the facility needs and recommend us first to your customers. The handy rate map we will provide will help keep your time from being wasted as it provides a general idea of what rates a customer should expect to get a horse transported from your facility by any transporter as these rates are pretty standard. If you customer needs a more exact idea of rates they can come to our website and use our handy no obligation quote form and get a more exact quote not just from your facility but anywhere in the country on what a transport would cost. You facility will be given a Facility Rate Code which they can input on the form and get a quote WITH your discount. The cost of shipping is often a very major deciding factor on a horse purchase and with this offer you can get your clients amazing rates and be upfront with the costs of shipping eliminating frustration and the wait to find out what shipping would cost.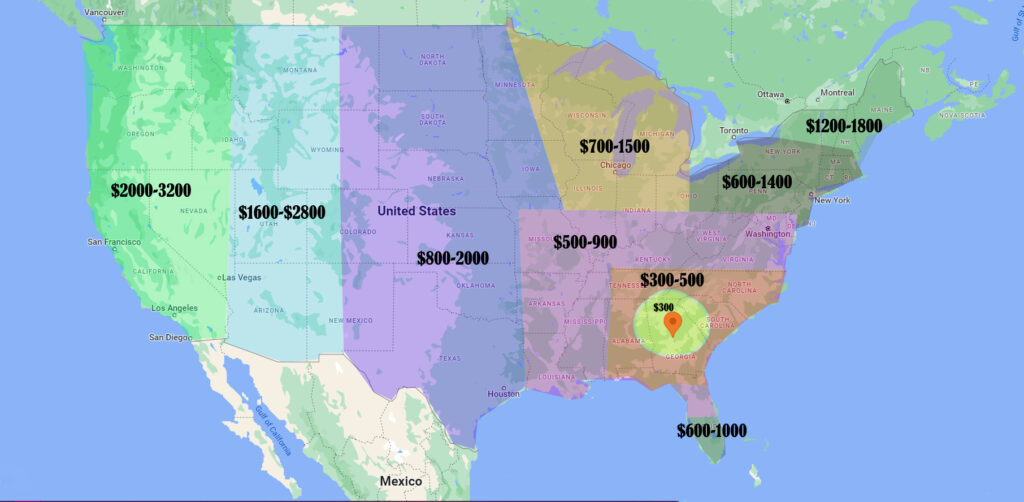 To qualify for Exclusive Rates your facility must meet the following requirements:
Your facility and the roads leading to it must be able to accommodate a rig that is 65′ total feet long and there should be no weight restricted bridges that do not allow rigs that weight between 12000 and 26000 pounds.
If your facility is on a one way or dead end road then there must be room to turn the rig around at your facility, on average it takes around an 70-80 foot diameter to turn around.
The horses sold by your facility must be halter broke, trained to back up on halter, and able to stand tied.
Your facility must need to ship at least 6 horses a year within the lower 48 states.
The discount your facility gets is dependent on the amount of horses we book out of or to the facility.  In order to count for your facility discount the horse must either be leaving or going to your facility, the discount cannot be used on loads that do not start or end at the facility. The discount will rise or lower based on how many horses we have transported for the facility in a 12 month period before the booking date. To be considered as transported for the facility the transport request must have come from or gone to the facility or been booked by the facility and only those transports that are completed and paid in full at the time of the booking count toward the this number.
| | |
| --- | --- |
| # of horses in a 12 month period | Discount to Facility & Customers |
| 1-10 | 10% |
| 11-20 | 15% |
| 21-35 | 20% |
| 35-50 | 25% |
| 50+ | 30% |
Thank you, we will contact you soon !
Facility Information
You need to select an item to continue
Facility Contact
You need to select an item to continue
Review
The final estimated price is :
By entering your email and submitting this form you are requesting us to create an "Exclusive Rate Contract" for your facility. The document will be create and sent to the email you enter here via Docusign. Your facility code & rate map will be provided within 3 business days from the time you sign the contract to the email you leave here. Your rate discount from the moment the contract is signed starts at 10%. All transports resulting from your facility will have your facility code attached to the transport contract.

Summary
| Discount : | |
| --- | --- |
| Total : | |